Step aside US active managers you have some competition from European funds! But first to Asia.
Foreign investors are on course to withdraw nearly $8 billion from Asian markets in November, after a huge sell-off since Republican Donald Trump won the U.S. presidential race.
Net fund outflows for the month up to Nov. 24 jumped to $7.8 billion, with selling across all Asian markets, according to HSBC data. The large outflows were probably on account of high fund holdings in these markets, it said.
Taiwan was the top loser with $3.1 billion, followed by India with $1.7 billion. Among ASEAN countries, Thailand witnessed the most outflow of $850 million.
Indonesia replaced Taiwan as the region's preferred market, with the highest weights seen in five years. Consumer staples was the preferred sector.
"FIIs reacted in the expected manner, pulling out from emerging Asia markets," the bank said in a reference to the surprising Trump victory, over Democrat Hillary Clinton. The verdict drove both U.S. yields and the dollar higher, with a likely Fed rate hike in December.
Most analysts expect the sell-off to continue in the near term as reflationary pressure builds in anticipation of fiscal stimulus in the U.S. But longer-term rules of intra-Asian engagement could change if the U.S. were to turn more protectionist under Trump.
Goldman recommends long position in EMs
Goldman Sachs has been among the few investment houses that has called the sell-off in emerging markets "harsh," besides blaming it on the carry trade. It also recommended long positions in several emerging markets including Brazil, India and Poland.
Citing its own data, HSBC said mutual funds began to move money into China even before the U.S. presidential race. Fund holdings in China jumped sharply compared to three months ago, the bank said. Funds still have the least absolute exposure in China and Korea, compared to their benchmark weights.
Overall, mutual funds retained underweight positions in six of the 10 Asian markets, with Hong Kong the least preferred. Fund holdings in Asia's developed markets of Hong Kong and Singapore were near five-year lows.
"For fund holdings, we prefer to look at portfolio weights against a country's own history (z-score) to adjust for any historical biases mutual funds have towards markets (Chart 4)…We are overweight on India, Indonesia, the Philippines and China; and underweight on Hong Kong, Korea and Malaysia. At the sector level, we prefer utilities, energy, and consumer discretionary."
Global funds have added to weights in Taiwan, and remain overweight on India and Korea, although relative holdings continued to decline in India. They broadly maintained their exposure in other markets.
In absolute exposure (active weight), mutual funds continued to cut holdings in overweight markets, including India. Among sectors, financials were least in favor, while funds kept a cyclical bias with overweight positions in consumer discretionary and materials. Industrials and technology were neutral.
HSBC's take on European funds
Additionally, European funds have been hit hard and/or missed out on some big investments. As HSBC notes:
European funds have been caught with a few but significant wrong sector allocations in 2016. The Financials sector, where European funds have negative holdings, has outperformed MSCI Europe by c18% since June 2016. Similarly, materials, which has been the top performing sector with a relative return of c29% in 2016 (y-t-d), is another sector where European funds on average have an underweight position. As a result, positioning in these two sectors has caused most pain to European funds.

Funds respond by reversing adverse positions We see signs of funds responding to this by scaling back their underweight positioning across all industry groups in financials sector, ie banks, diversified financials and insurance. Post the Brexit outcome, funds have reduced their underweight position in banks from negative 300 basis points to negative 201 basis points. This suggests there is scope for funds to trim their underweight position further from current levels. Similarly, materials is another sector where funds have reduced their underweight position, by 62 basis points since June 2016.
As this chart shows – financials have done so well in the past few months they are actually leading tech stocks over a multi year period.
XLF has outperformed QQQ over the trailing 1, 2, and 5 years and barely underperformed 3 and 4 yrs. Definitely not the prevailing narrative. pic.twitter.com/NUR8Xppx6W

— modest proposal (@modestproposal1) November 28, 2016
Furthermore, as Bloomberg points out:
Already in November, the value of American financial firms has been inflated by more than $300 billion, the most ever for the group as it benefits from optimism over Donald Trump's presidential plans. Dealers are charging next to nothing for protective options and short sales are being covered in droves — all for stocks that have punished bulls every time comparable bouts of euphoria took hold since 1990.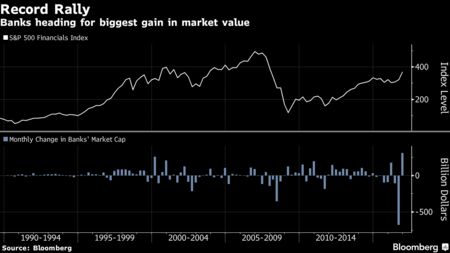 Pain trade indeed!