Zoe's Kitchen Inc  (NYSE:ZOES) – Short Case
Check out this week's Danger Zone interview with Chuck Jaffe of Money Life and Marketwatch.com
How can investors know when to "buy the dip?" While timing such a purchase will never be foolproof, one can look for certain metrics to determine whether a firm is seeing fundamental weakness, or simply a market overreaction. Increasing economic earnings, strong competitive position, or an undervalued stock can be a signal to "buy the dip." Unfortunately, Zoe's Kitchen (ZOES: $24/share) meets none of these criteria and is on September's Most Dangerous Stocks List and in the Danger Zone this week.
Revenue Growth Masks Underlying Losses
[drizzle]Zoe's Kitchen's economic earnings, the true cash flows of the business, have declined from -$9 million in 2012 to -$15 million over the last twelve months (TTM). This decline comes despite revenue growing from $80 million in 2012 to $256 million TTM. Figure 1 shows the disconnect between economic earnings and revenue. See a reconciliation of Zoe's Kitchen's GAAP net income to economic earnings here.
Figure 1: ZOES Economic Earnings in Decline

Sources: New Constructs, LLC and company filings
Zoe's Kitchen has consistently earned a poor return on invested capital (ROIC), and currently earns a bottom-quintile 4% TTM ROIC. Even worse, growing revenues at such high rates has been a significant cash drain, as Zoe's has burned through $131 million in free cash flow since 2013.
Compensation Plan Only Worsens Shareholder Destruction
Zoe's Kitchen's executives receive, apart from base salaries, annual cash bonuses paid out based upon the achievement of a target "adjusted" EBITDA goal. The "adjusted" portion of EBITDA includes the removal of certain "nonrecurring expenses." However, when one digs deeper, it becomes clear that adjusted EBITDA removes pretty standard expenses (listed in the next section), such as equity-based compensation expense. Unsurprisingly, Zoe's has done an excellent job of growing adjusted EBITDA, and therefore management bonuses, but not real profits, as we'll show below. Through the use of "adjusted" EBITDA, executives are incentivized by metrics that do little to create shareholder value and can actually improve while shareholder value is destroyed, as in this case. The best way to create shareholder value, and align executives with the best interest of shareholders, is to tie performance bonuses to ROIC.
Non-GAAP Metrics Portray Inaccurate Picture of Business
Despite the SEC stepping up scrutiny of non-GAAP metrics, businesses still have large discretion over which items are removed to calculate non-GAAP metrics. Such discretion ends up creating metrics that not only tell a different story of business fundamentals, but also lead investors to thinking a firm is highly profitable when that is not the case. See the dangers of non-GAAP metrics for more on this topic. In relation to Zoe's Kitchen, here are some of the expenses ZOES has removed in the past or still currently removes to calculate its adjusted EBITDA and non-GAAP net income:
Management & consulting fees
Equity-based compensation expense
Pre-opening costs
Offering related expenses
Executive transition costs
Executive relocation costs
The removal of these items has a significant impact on the disparity between economic earnings and ZOES non-GAAP metrics. In 2014, when ZOES went public, the company removed just over $6 million in equity-based compensation expense (4% of revenue). Through the removal of this equity-based compensation and other expenses, ZOES reported an adjusted net income of $213,000, compared to GAAP net income of -$10 million. In 2015, the company removed $2.5 million related to pre-opening costs when calculating its adjusted EBITDA. This expense equaled 227% of GAAP net income. By removing these large expenses, Zoe's Kitchen reports non-GAAP metrics that are much better than economic earnings. Adjusted EBITDA grew from $11 million in 2013 to $22 million in 2015, or 43% compounded annually while adjusted net income grew from -$400 thousand in 2013 to $2 million in 2015. Meanwhile economic earnings declined from -$12 million in 2013 to -$15 million in 2015, per Figure 2.
Figure 2: Discrepancy Between Non-GAAP & Economic Earnings

Sources: New Constructs, LLC and company filings
Lagging Profitability In A Highly Competitive Market
Zoe's Kitchen provides diners with Mediterranean inspired dishes in a fast-casual setting. The dining industry is highly fragmented, with competitors of all sizes, offering any assortment of food options. In the fast casual segment, Zoe's faces competition from the likes of Panera Bread Company (PNRA), Chipotle Mexican Grill (CMG), and Fiesta Restaurant Group (FRGI). Zoe's also faces competition from traditional dine-in restaurants such as Applebee's and IHOP (owned by DineEquity (DIN)), Olive Garden and Longhorn Steakhouse (owned by Darden Restaurants (DRI)), and Chili's Bar & Grill (owned by Brinker International (EAT)). Additionally, Zoe's competes with traditional fast food operators such as McDonalds (MCD), Yum Brands (YUM), and Wendy's (WEN). While each of these segments caters to different markets, they have significant overlap in that each firm is ultimately competing for the same pool of money, consumer spending on food. However, despite the differences, each of the competitors listed, as well as those below in Figure 3, have one thing in common, they're all more profitable than Zoe's Kitchen.
Per Figure 3, Zoe's Kitchen has a lower NOPAT margin and ROIC than 18 competitors listed. Such low profitability leaves ZOES with limited pricing power in an industry largely predicated on price. At the same time, Zoe's low profitability leaves it less flexibility in regards to expansion, changes in labor regulations, or unexpected issues such as food shortages and health issues (as we saw recently with Chipotle). While a higher margin doesn't guarantee success, it allows a firm to operate more freely, while continuing to invest in the business, and ultimately reaching the expectations embedded in its stock price. With such low margins, Zoe's Kitchen will have a hard time reaching those lofty expectations, as we'll detail later.
Figure 3: Zoe's Profitability Ranks Last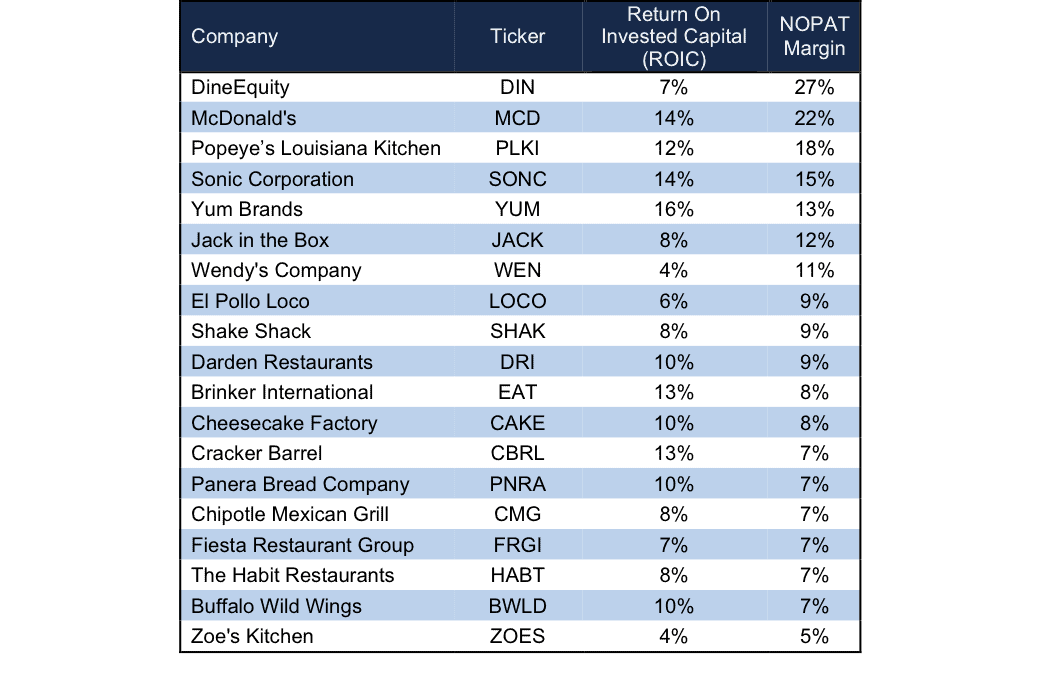 Sources: New Constructs, LLC and company filings 
Bull Hopes Imply Store Growth Can Cure All Issues
Bulls will argue that Zoe's Kitchen is simply in the beginning of its growth phase and that ultimately achieving the company's goal of operating 1,600 stores (from 186 at the end of 2Q16) justifies the current valuation. However, to make the case that store growth can alleviate the shareholder value destruction that is ongoing ignores not only the manner in which store growth is slowing, but also that regular operating expenses, such as store maintenance/repair and labor costs are growing just as fast as revenues.
Per Figure 4 below, the year over year (YoY) growth in store count has been in a downward trend since 2009. In that year, store count grew 48% YoY, compared to just 26% YoY in 2015. At the end of 2Q16, store count grew only 23% YoY. At 23%, it would take over a decade for Zoe's to reach its 1,600 store goal. For reference, from 2005-2015, Chipotle's store base grew 15% compounded annually.
Figure 4: Slowing Store Growth Threatens Bull Case

*Year over year growth based on store count at