Why Apple Is the Best Retail Stock According to this 15 Point Checklist
(This is a guest post. The author's views are entirely his or her own and may not always reflect the views of Old School Value.)
Read more: http://www.oldschoolvalue.com/blog/stock-analysis/why-apple-is-the-best-retail-stock-according-to-this-15-point-checklist/#ixzz3t4ztgzmJ
What You'll Learn:
A brief timeline of Apple's entry into retail
A qualitative look at why Apple is such a compelling investment
How Apple passes Phil Fishers 15 point checklist
Fundamental comparisons with other retailers that show the true strength of Apple
Quick Apple Retail History
Apple's entrance into the brick and mortar retail space began on May 15, 2001 when the company announced that it would open 25 stores in 2001.
Then just four days after that announcement, it simultaneously opened its first two stores, on the same day, in Tysons Corner in McLean, Virginia, and the Glendale Galleria in Glendale, California.
About five months prior, Apple was already planning a major move into the E-commerce space when it launched its iTunes Software on January 9, 2001 and laid the foundation for its iTunes Music Store, which it launched on April 28, 2003.
By the time Apple launched its App store in 2008, its iTunes Music Store had surpassed Wal-Mart  to become the number one music retailer in the US.
Apple celebrated this fact by releasing the following statement at the time
With over 50 million customers, iTunes has sold over four billion songs and features the world's largest music catalog of over six million songs.
And with it most recent launch of iTunes into China on September 30, 2015 Apple has announced that it now has over 800 million iTunes customers. It's only a matter of time until the company reaches its one billionth user for iTunes.
I consider Apple's retail operations to consist of the following:
E-commerce Apple.com website
its brick and mortar stores
the iTunes Store
the App Store
the Mac App Store
the iBooks Store
AppleCare
licensing and other services
In his last TV appearance in 2011, Steve Jobs said that "Apple is growing like weeds".
He clearly saw the future as here are the most recent Retail Sales results from Apple's latest 10-K Annual Report filing with the SEC.
The iTunes Store generated a total of $10.2 billion in net sales during 2014 compared to $9.3 billion during 2013.
The growth in Retail segment net sales in 2014 was primarily driven by increases in net sales and unit sales of iPhone and Mac, partially offset by declines in net sales and unit sales of iPad and iPod. With an average of 424 and 403 open stores during 2014 and 2013, respectively, average revenue per store increased to $50.6 million in 2014 with Net Sales of $21.46 Billion.
Including revenue from the iTunes Store, the App Store, the Mac App Store, the iBooks Store, AppleCare, licensing and other services = $18.063 billion
Apple's retail operations clearly exploded since Steve Jobs introduced the store concept in 2001, where he also first introduced the "Genius Bar" store concept.
Why Analyzing Retailers with Fisher's 15 Point Checklist Works
Analyzing retailers is a complicated operation.
I've found that the best way to analyze any retailer is to run Philip A. Fisher's 15 Point checklist, which Mr. Fisher introduced in his book Common Stocks and Uncommon Profits.
Just as Benjamin Graham is widely considered to be the Father of Quantitative Analysis, Phil Fisher, in his own right, is considered to be the father of Qualitative Analysis and growth investing.
Qualitative Analysis for those who do not know is the art of analyzing a company based on the quality of its operations, quality of management and finally by the level of superior performance over time as measured by consistency of operations.
The most important point in Fisher's work besides consistency, was;
A) getting "The Story" right
B) not overpaying for what people envision as a very promising future.
Many investors make the mistake of buying shares of a company that makes a product or provides a service they believe is a game changer. That is, they get emotional about it. This leads to an automatic assumption that if they just buy shares of the company (no matter what the price), they will get rich.
It's happened… In some rare cases. Unfortunately, it doesn't work like that.
Many have high hopes for companies, like Tesla, but the current numbers do not back up "The Story".
The Fisher "15 Point" analysis is a way to take emotion out of an analysis.
It's possible because Phil Fisher's methodology objectively analyzes a company's operations looking for consistency over time in the real world. It's not focused on one year or one quarter results.
This method also forces you to examine the financial statements of the firm and make sure you don't overpay for the company's growth prospects.
Apple's 15 Point Analysis
1) Does the company have products or services with sufficient market potential to make possible a sizeable increase in sales for at least several years?
Apple creates its product and services to run on what is now known as the Apple "eco-system".
Besides being works of art in design and very appealing to the eye and touch, each of its products, along with its services are also very user friendly and once purchased tend to become an essential part of one's life, which most Apple customers cannot live without.
The reason for this is that the eco-system links all of Apple's products and services into one place.
e.g. You can purchase and store your music and then transfer it among all your devices. On top of that Apple is constantly innovating each product and thus continually causes its customer base to want the next upgrade.
It's constant demand.
This demand is universal and worldwide as customers in China have a similar addiction to their iPhone as someone in Canada or Singapore would.
As Apple further expands its operations globally, its potential customer base is rather unlimited because of the power of Apple's eco-system.
2) Does the management have a determination to continue to develop products or processes that will still further increase total sales potentials when the growth potentials of currently attractive product lines have largely been exploited?
With Apple having about $200 billion in cash and cash equivalents on its balance sheet, expanding its store operations costs Apple pennies on the dollar in relation to total sales and is a no-brainer.
Fortunately for us, management is determined to do so as Apple now has anywhere from 424 to 437 stores now open and surely has the determination to continue opening more stores in Asia for example.
While expanding store operations, management is also just as determined to stock those retail stores with innovative products and drive even more customers to its stores.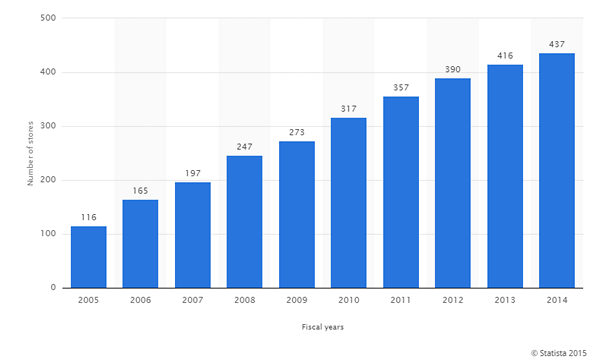 3) How effective are the company's research and development efforts in relation to its size?
Obviously with the massive amount of free cash flow that the company generates and its massive war chest of cash and cash equivalents, Apple's R&D budget is rather conservative.
That's because its retail operations concept is running as smoothly as it can and the company does not need to change the concept, especially when you see results like these: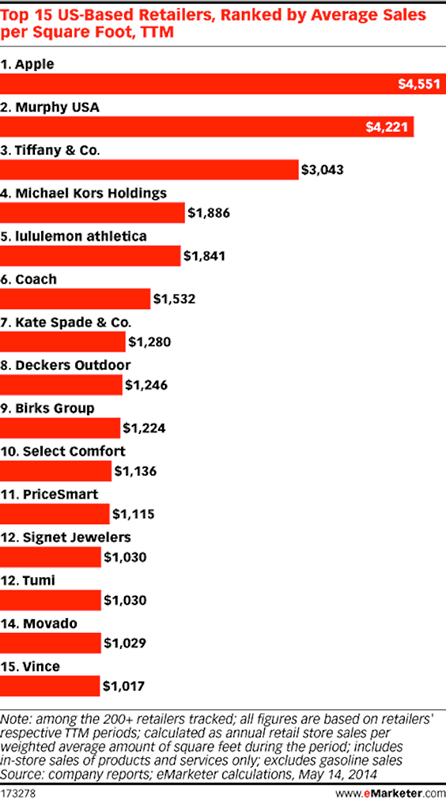 Here is what the company said about its R&D strategy.
The Company continues to believe that focused investments in R&D are critical to its future growth and competitive