In an article published in 24/7 Wall Street today, Douglas McIntyre noted that shortsellers are rounding up shares of tech companies to build up short bets. Short interest in several popular tech names spiked in the two weeks of the month ending on October 15. It seems investors are anticipating bad news in the earnings release for the third quarter. Yahoo! Inc. (NASDAQ:YHOO) saw a 22 percent increase in its share out on loan, whereas short interest in Groupon Inc (NASDAQ:GRPN) increased by 23 percent and the gaming company, Zynga Inc (NASDAQ:ZNGA) experienced an 18 percent increase in borrow interest.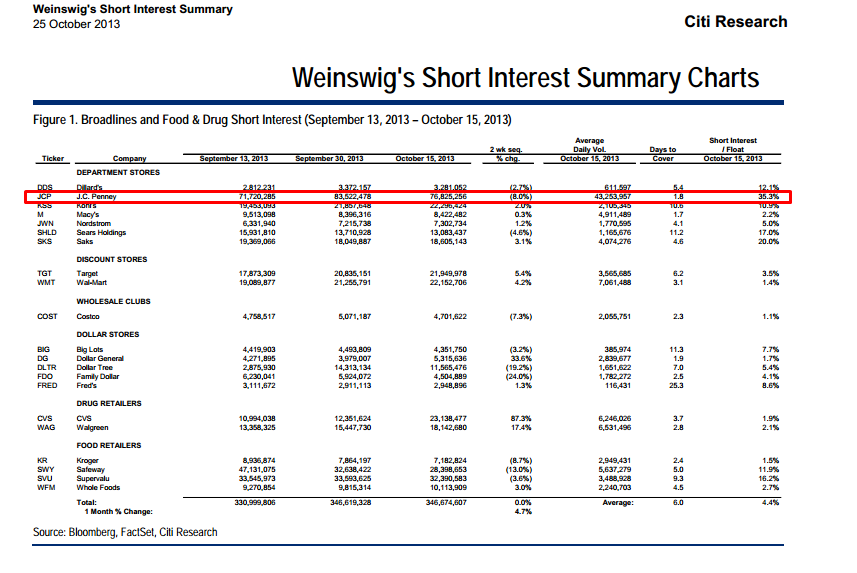 Meanwhile, as Citi's Deborah Weinswig noted in her short interest report, the increase in short interest in retailers was also pronounced in some cases. The highest bearish activity was witnessed in CVS Caremark Corporation (NYSE:CVS), where short interest increased by 87 percent to 23.1 million shares from 12.35 million shares between September 30 and October 15. It would appear that investors are very sure that CVS Caremark Corporation (NYSE:CVS) will be posting a bad quarter in November 5 earnings release.
CVS Caremark is feeling the pressure
CVS Caremark Corporation (NYSE:CVS), which operates a chain of pharmacy stores, is pressured as generic drugs take greater market share. The expiration of drug patents and new regulations are negatively effecting the earnings potential of CVS Caremark Corporation (NYSE:CVS).
Dollar General Corp. (NYSE:DG) is the long holding of several noted hedge funds, including all the famous tiger cubs, Lone Pine Capital, Tiger Global, Maverick Capital, Viking Global and also of funds like Pennant Capital and Farallon Capital. Short interest in Dollar General rose 33 percent through October 15, from 3.98 million shares to 5.3 million shares. Shorts in Walgreen Company (NYSE:WAG) were also up by 17 percent in the same period.
J.C. Penney holds the largest short interest
J.C. Penney Company, Inc. (NYSE:JCP) still easily holds the largest short interest, at 35 percent of outstanding shares, but the last two weeks saw minor reduction in the bearish calls. Short bets were covered by 8 percent.
The largest covering of shorts among retailers was seen in Family Dollar Stores, Inc. (NYSE:FDO), down from 5.9 million shares to 4.5 million shares, a 24 percent decline. Short bets in Safeway Inc. (NYSE:SWY) and The Kroger Co. (NYSE:KR) were also reduced in the last two weeks.